Complete OAT Prep Review: Home Study Course with 5 Full-length Practice Tests (4 Books, Online Videos, MP3s, Software for the Optometry Admission Test and Interview Online Video)
OATbooks.com
Category: Full Programs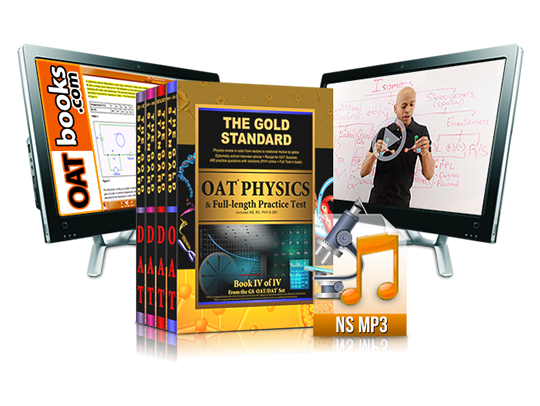 Gold Standard OAT follows the syllabus that the Association of Schools and Colleges of Optometry (ASCO) publishes, listing the topics you must learn to master the OAT exam.
Finally, you don't have to pay $1500 for top quality. See below for sample pages. Fully updated and comprehensive OAT test review! It's like an OAT course and tutor in your home at your own pace!
Product Summary:
4 Gold Standard books (a total of over 1300 pages: Gold Standard OAT Physics + Full-length Practice Test with Optometry School Interview Advice, Gold Standard DAT Biology Preparation, Gold Standard DAT General and Organic Chemistry Review, Gold Standard DAT Quantitative Reasoning (QR/Math) and Reading Comprehension (RC).
Note: DAT and OAT preparation is identical for all sections except that the OAT has Physics instead of DAT PAT.
TopScore Pro License Key to unlock downloadable TopScore Pro software program high quality OAT practice tests (2018 Ed.; 3 fully computerized practice tests (18 exams); works using Windows/PC and Mac/Apple.). Access codes are nonrefundable.
You will receive access to additional 2 full-length Gold Standard OAT practice tests online (PC or Mac) in addition to the 3 TopScore practice exams for a total of 5 full-length practice tests.
In all, you will have more than 2000 practice questions, answers and explanations in the books, tests and online.
We have added these bonus items from our MCAT materials to give you a condensed review of the 4 basic sciences: Biology, Physics, General and Organic Chemistry, as well as a bonus interview online video:
The Silver Bullet High Yield MP3 Audio on CD (newest edition): 4 hours.
A comprehensive Gold Standard Natural Science review (20 hours) for the OAT with CLEAR teaching. 12 months online access.
Medical School Interview Online Video: 100 min.; can be used to help for Optometry School Interviews.
Without TopScore/bonus items: $299.00 - FREE Shipping!


You Save $100

Complete Package: $399.00 - FREE Shipping!

You Save $100
---
OAT 4 Review Guides: Tables of Contents
OAT Physics Table of Contents
DAT/OAT Biology Table of Contents
Click image to enlarge
DAT/OAT Chemistry Table of Contents
DAT/OAT QR and RC Table of Contents
Can't I use MCAT books instead and why should I use DAT books?
There are many important OAT/DAT topics that are either not on the MCAT or are so rare as MCAT questions that the topics are not properly covered in MCAT books. Here is a partial list: photosynthesis and plant biology, cladistics, genetic technology, animal behavior and learning, population and community ecology, ecosystems, social behaviors of animals, general chemistry laboratory techniques and glassware, alkene, alkyne, ether and aromatic chemistry, multi-step organic syntheses, etc. The Gold Standard was designed specifically so that all ADA/ASCO topics required for the OAT and DAT are presented in color followed by chapter review questions, answers and explanations.
To understand our OAT Books website and your best OAT prep, it is important that you understand the relationship between the OAT and the DAT, and between ASCO (Association of Schools and Colleges of Optometry) and the ADA (American Dental Association). The ADA develops the questions for the DAT (Dental Admission Test) and, as approved by ASCO, for the OAT (Optometry Admission Test) as well. OAT preparation is identical to DAT preparation for all topics except that Physics is unique to the OAT and PAT is unique to the DAT.
Natural Sciences Review Videos Index:
PHYSICS:
The Atom, Nuclear Reactions, Radioactive Decay and Half-Life, Electricity vs. Gravity, Electric Circuits I, Electric Circuits II, Electric Circuits III, Kirchoff's Laws; Kirchoff's Second Law; Characteristics of Waves; Interference Of Waves; Diffraction; Optics; Sound; Doppler Effect; Electromagnetism; Electromagnetic Spectrum; Reflection; Refraction, Thin Lens; Snell's Law; The Critical Angle, Force and Motion, Weight and Units, Friction, Applying Newton's Laws, Trigonometry, Projectile Motion, Work, Circular Motion; Circular Motion Problem, Work-Energy Theorem, Energy and Entropy, Momentum, Law of Torques, Fluids, Fluids in Motion, Archimedes' Principle
BIOLOGY:
Introduction, The Eukaryotic Cell, Plasma Membrane, The Cell's Interior, DNA, The Cell Cycle, Protein Synthesis; Viruses, Prokaryotes vs. Eukaryotes, Bioenergetics, The Neuron, The Nervous System, The Endocrine System I, The Endocrine System II; The Menstrual Cycle, The Circulatory System, Blood Composition, Lymphatic and Immune Systems, The Digestive System I, The Digestive System II; The Excretory System I, The Excretory System II, Gametogenesis (Meiosis), Genetics I, Genetics II, Genetics III, Genetics IV, Genetics V
ORGANIC CHEMISTRY:
Stereochemistry I, Stereochemistry II, Stereochemistry III, Reaction Mechanisms I, Reaction Mechanisms II, Reaction Mechanisms III, The Carbonyl Group I, The Carbonyl Group II; The Carbonyl Group III, Acetals/Ketals I, Acetals/Ketals II, Substitution I, Substitution II, Substitution III, Carboxylic Acids I, Carboxylic Acids II; The Tetrahedryl Intermediate, Amides, Amino Acids, Protein Structure, Elimination I, Elimination II, Alkenes I, Free Radicals, Redox Reactions; Redox Reactions II, Redox Reactions III, Aromatic Rings I, Aromatic Rings II, Spectroscopy, Nuclear Magnetic Resonance, Elimination vs. Substitution
GENERAL CHEMISTRY:
The Atom, The Periodic Table, Chemical Bonds, Hydrogen Bonds, Ionic and Covalent Bonds, Lewis Dot Structures; Multiple Bonds, Resonance, Molecular Polarity, Hybridization, Hybrid Orbitals, Gases, Avogadro's Law, Equation of State, Graham's Law, Liquids, Maxwell's Distribution Plot; Boiling, Melting Points, Le Chatelier's Principle, Solutions, Phase Diagrams, Raoult's Law, Boiling, Freezing Point Changes, Acids and Bases, Acids and Bases: Strong, Acids and Bases: Weak, Titrations; Oxidation Numbers, Solubility Product, Thermochemistry, Calorimetry, Thermodynamics, Hess's Law, Rate Law, Energy Diagrams, Electrolysis, Electrochemical Cell